Get in Touch
Who We Are?
Conscisys Corporation provides IT systems design, programming, project management and web development services to a variety of business and government organizations. Our staff has broad experience implementing world-class applications utilizing the most widely recognized technology. Conscisys was founded in 1985 as a partnership and became an Illinois corporation in 1989
Conscisys develops and supports application development for its clients both on-site and offshore. Conscisys and its affiliates in Chennai and Ahmedabad, India offer a broad spectrum of technology services and have staff experienced in the most critical and widely used of today's technologies.
Where We Are?
Conscisys Corporation
1125 Mistwood Place,
Downers Grove,
IL 60515-1205

Telephone: 630-810-4444
Email: [email protected]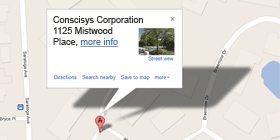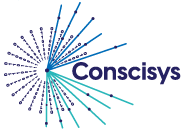 Conscisys Services
Case Management, Evaluation Scheduling and Reporting System
Requirements Analysis, Systems Design and Program Implementation for a public agency responsible for the evaluation and reporting of evaluation outcomes. System provides workflow management, resource allocation, appointment management, scheduling, fee assessment-collection and management reporting for thousands of interviews and testing outcomes each year. All documentation resulting from case activities are imaged to associated cases on a AS400 Image Server. Client/Server technology is used. Servers are IBM AS400s utilizing DB2. All application code written in JAVA.
Redesign and Implementation of Telecommunication Billing Systems (voice and data).
Redesign and Implementation of Telecommunication Order Entry and Provisioning System.
Conscisys provides Web Development Services, Business Requirements Analysis, Database Design, Programming, Content Analysis and Web Hosting Consulting services. Projects developed include www.yourlrma.com, www.foresupplyco.com, www.dupagecase.com, www.cccilcs.com, www.i2file.net, www.dupagecase.org, www.illinoisprotectionorder.org.